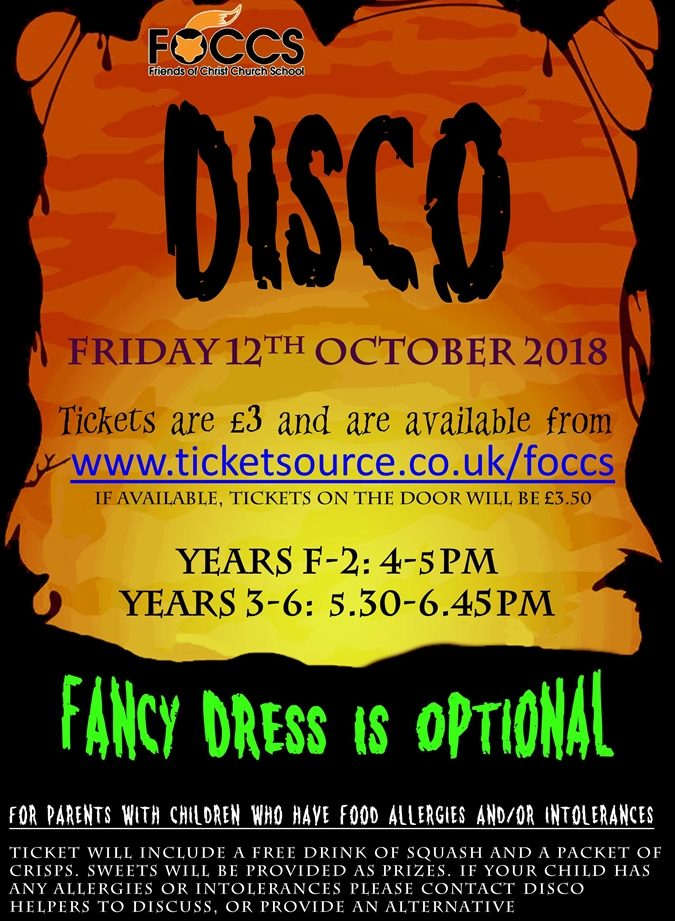 FOCCS Disco (Friday 12th October 2018)
Get into the spirit of the season with this Friday's FOCCS Disco. It's dancing with a difference, though – fancy dress is encouraged! However, it's definitely not compulsory. Everyone is welcome!
With that in mind, Foundation are also invited to come along and join in with what is sure to be a really fun event.
TICKETS
Advance Tickets (Foundation/KS1): £3 SOLD OUT
Advance Tickets (KS2): £3 SOLD OUT
On the Door Tickets (If Available): £3.50
TIMES
Foundation/KS1 Disco: 4pm-5pm
KS2 Disco: 5:30pm-6:45pm
We hope to see you there!
A Note on Food Allergies & Intolerances:
Ticket will include a free drink of squash and a packet of crisps. Sweets will be provided as prizes. If your child has any allergies or intolerances, please contact disco helpers to discuss or so they can provide an alternative.