Philosophy
"The school is well led and managed because the head teacher has established a clear vision and a strong sense of purpose… In partnership with the effective deputy head teacher, they set high expectations for staff and pupils… Leaders, including those who work in the Inclusion Hub, place the greatest importance on knowing every pupil well." (OFSTED 2014)
---
Christ Church is a Church of England Voluntarily Controlled (VC) school supported by the Salisbury Diocese. Accordingly, the ethos of the school reflects this Christian foundation. Further information about the Salisbury Diocese can be found on its website – click here to learn more. We are proud that the children in our care develop a sense of respect and belonging both within the school and wider community. We're also keen to foster in them a greater understanding of the world, environmental issues and the impact they can personally have on those around them. More detailed information can be found in the school's prospectus. Click here to read it.
---
The School's Mission Statement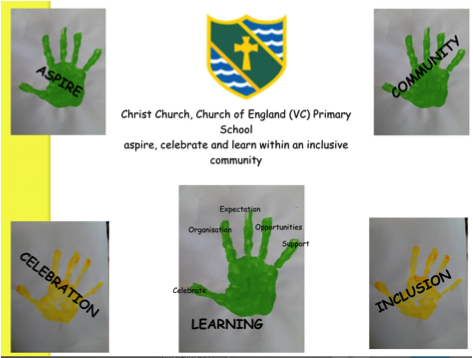 Our teaching practice throughout the school reflects the principles of the ELLI project (Enhanced Lifelong Learning Inventory). You can find out more about the research project the school undertook by clicking on this link. We use different characters to support the children with remembering the learning dimensions. You can see these characters in the table below.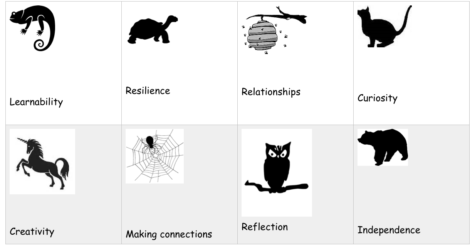 Each dimension is a continuum and, ideally, a balance of strength in all areas will help us to become effective lifelong learners. You can see the qualities we aim to encourage through the ELLI system below.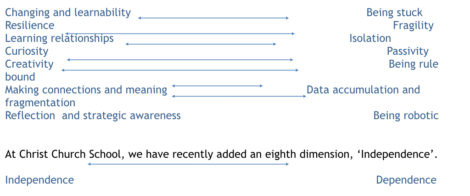 The Year 6 students all wrote ELLI stories to help us introduce the new dimension. Here is the winning entry: Click Here to Read 'Spread Your Wings' by Rhianna.
---
What Are Our Aims in Using ELLI?
ELLI enables teachers to focus on the skills of learning.
ELLI provides a vocabulary with which we can discuss learning.
ELLI demonstrates that learning is learnable.
ELLI enables pupils to focus on different aspects of learning during lessons.
ELLI provides us with a way of celebrating achievements in learning alongside curriculum success.
How is ELLI Incorporated Into the Curriculum?
ELLI is part of our daily teaching in 2 ways:
Explicitly – by direct, active encouragement of the 8 ELLI dimensions and related reward systems.
Implicitly – by modelling how we, as teachers, are also learning to learn through our style of teaching, classroom management and the curriculum.
---
How is ELLI Used in School?
Year 1 and 2
Each class has a set of soft toys representing the ELLI dimensions. These aspects of learning are then introduced one at a time, with the help of a school ELLI story which features all the animals.
Years 3 and 4
Each year group has reward systems, often topic-related, which enable staff to discuss and praise positive learning behaviours.
Years 5 and 6
An ELLI assembly takes place each week, during which positive learning behaviours are highlighted and children are rewarded with ELLI certificates. We recognise that parents and carers are an important part of the children's approach to learning and that the children should be aware of the role of people in their community and at home who support them in their learning.